If you've even wondered how you can buy property using super, this article outlines 6 alternative strategies to do so.  An SMSF can be a fantastic vehicle for holding and investment property. SMSFs are extremely tax effective and provide great asset protection, however they're not suitable for everyone or for every property. Using super to purchase property takes a bit more effort and planning compared to purchasing in your personal name, so specialist advice should always be sought.
Disclaimer: All information contained on this website is provided as an information service only and, therefore, does not constitute, and should not be relied upon as, financial product advice. None of the information provided takes into account your personal objectives, financial situation or needs, and you will need to make your own decision about how to proceed. Alternatively, for financial product advice that takes account of your particular objectives, financial situation or needs, you should consider seeking financial advice from an Australian Financial Services licensee before making a financial decision.
Buy property using super – different options
In this article I will review 5 methods of using super to purchase property including:
Outright purchase (no borrowings)
SMSF borrowing (limited recourse borrowing arrangement)
Tenants in common
Joint venture
Unit trust
Using super to purchase property outright (no borrowings)

An outright purchase is the simplest and easiest way of buying property using super. With this option the SMSF purchases the property directly without any intermediary structures or entities in place.  For this to happen the SMSF must have the ability to fund 100% of the purchase price and all associated costs.
This type of purchase is the simplest way an SMSF can invest in property.  No borrowings or gearing is used – meaning the amount required is going to be a lot higher than via other methods.  This limits the type of property the SMSF can afford to invest in and also could limits diversification (in either other asset classes or other properties).
A direct purchase will typically be the cheapest in terms of transaction / purchase costs – there are no other structures required to be set up.
Another advantage of an outright purchase is that there are no restrictions around developing the property, apart from the obvious necessity for the SMSF to have the necessary resources available to undertake the renovation or development.
When buying property using super as an outright purchase, typically the name of the SMSF trustee(s) should be the purchaser on the contract of sale. For example when the SMSF has a corporate trustee, the following (example) purchaser would be used: SMSF Trustee Pty Ltd ACN XXX XXX XXX as trustee for Name of Fund
It's recommended with all options that involve buying property using super that the SMSF has a corporate trustee.  More information on this here: Corporate Trustee SMSF – Individual trustees personally liable
SMSF borrowing arrangement (LRBA)
This method of buying property using super involves the title of the property being legally held by owned by a simple or 'bare' trust (also known as a 'custodian' or property trust) on behalf of an SMSF.  To describe it another way, a bare trust is basically a legal instrument that enables the SMSF to borrow to purchase a property – something it can only do under a limited recourse borrowing arrangement (a.k.a. installment warrant).
A limited recourse borrowing arrangement has been an extremely popular way enabling people to buy property with their super between 2010 and 2020, albeit the take up has slowed in recent years as the major banks pulled out of the SMSF loan market.
The following diagram shows the structure and flow of monies with a SMSF bare trust set up:
Although the above looks complicated, and it is more complicated compared to other ways of using super to purchase property, but the following are key aspects to understand:
The holding trust / bare trust is a legal structure that's required to enable a self managed super fund to buy property with super together with borrowings
The SMSF is still the beneficial owner meaning the fund receives all the receives all the rent and capital gains and is responsible for paying the loan and all expenses
The trustee of a bare trust can either be two or more individuals or (and most commonly) a company that holds the title on behalf of the SMSF
The lender can be either a bank or related party of the SMSF when using super to purchase property under an LRBA but where the related party is the lender, there are strict safe-harbour requirements that need to be complied with
Although SMSF loans are available with an Loan-to-Value ratio of up to 80% to ensure the property is cash flow positive, the LVR should be kept down to 60% – 65% wherever possible.
SMSF loans have higher upfront and ongoing costs and also attract a premium interest rate from lenders – i.e. currently owner occupier loans are around 3% or less (September 2020) however SMSF loans against residential property are all over 5%
Once the loan is repaid the bare trust can transfer the title to the SMSF without any capital gains or stamp duty – provided it has been established correctly.
It's important that if you are looking at using super to buy property through an LRBA structure you seek advice from a licensed financial adviser.
SMSF property purchase via tenants in common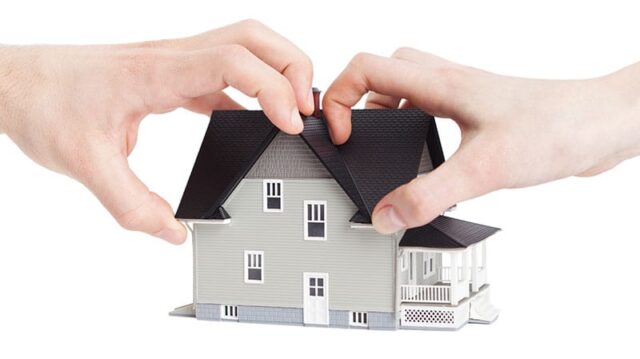 It's possible to use super to purchase property as tenants in common with another related or unrelated party. A tenants in common structure is where the SMSF to takes ownership of a fixed percentage of a property, with another party (such as an individual, trust or even another SMSF) owning the remaining percentage.  You can have two or more owners with a tenants in common structure.
This structure doesn't allow the title of the property to be used as security for a loan, however the other party is allowed to use borrowings provided the security is another property or other assets.
When using super to purchase property in a tenants in common structure, thought must be given to the ongoing management.  The simplest way to ensure the income and expenses are split correctly to the SMSF and other parties is for there to be a joint bank account set up in the name of the SMSF and the other party(ies).  This property bank account should receive all rental income and pay all outgoings and expenses. The remaining surplus cash in the bank account is then regularly transferred to the SMSF and other owner(s) based on their respective ownership percentages.
Similarly, where there is large expenditure, for example additional funds required for development or renovation, each owner will transfer the necessary cash to the joint property bank account to pay for the outgoings.
There are some disadvantages related to a tenants in common structure / joint ownership structure when using super to purchase property:
Where the property is a residential property and one owner is a related party of the SMSF, the SMSF is unable to purchase the part of the title owned by that party (this restriction does not apply where the other party is a unrelated party);
The property cannot be used as security for a loan, so a mortgage can never be secured against the title and an LRBA cannot be used;
The structure is difficult and potentially expensive to unwind as it likely requires the complete sale of the property;
The ongoing management can quickly become troublesome for the SMSF if not handled correctly – for example if the other owner (related or unrelated) either draws too much (or too little) cash from the net rental income or won't contribute additional capital for needed repairs or renovations;
Buying property through an SMSF joint venture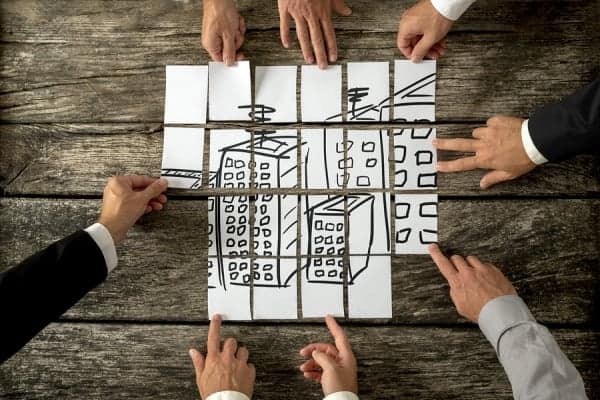 A joint venture is where two or more parties form an agreement to undertake a specific commercial activity and share the result of that activity.
For example a SMSF and a family trust could pool resources / funds to purchase a block of land and build a house.  On completion title would be transferred to each joint venture partner based on their percentage input (i.e. money contributed to the venture) and it would end up in a tenant in common arrangement as described above.
A very important thing to note is that the joint venture partners MUST share the outcome – i.e. the rental income of the completed property NOT the sale proceeds of the completed development.
The ATO doesn't like joint ventures involving SMSFs – and rightly so – a lot things can go wrong.  Before entering into such an arrangement professional advice needs to be sort and an appropriate joint venture agreement needs to be drafted.
If done correctly however a joint venture can be a valuable tool to enable a SMSF to enter the property development arena without entering the 'business' of property development – which may inadvertently lead the trustees of the SMSF to breaching of the laws that cover SMSFs.
If you are wondering whether a joint venture is an answer to the question: Can I develop property in my SMSF? the answer is 'maybe'.  Although an SMSF can develop property, there are many practicalities and rules and restrictions that must be complied with.
A correctly documented joint venture agreement however can enable a SMSF to become involved in a property development without breaching the relevant regulations that apply to SMSFs.
Unit trust to buy property using super

This structure enables two or more parties to acquire a fixed percentage of a property through purchasing units in a fixed or unit trust, where the monies are pooled and then used to purchase the target property.
Like the tenants in common structure, the underlying or target property is not able to be used as security for any borrowings.  However the other investors (except for the SMSF) are able to borrow to fund their share of the purchase – provided the above restriction is not broken.
A unit trust can also issue different kinds of units that have different rights.  For example there could be units which entitle the unit holder to receive a share of any income, and other units that give entitlement to capital profits or gains.  This may bring advantages when using segregated investment strategies down the track.
Where a unit trust is set up and one party (or group of related investors) does not hold a controlling interest in the trust (i.e. no more than 50%) the unit trust is then able to utilise borrowings with the underlying property used as security.  This is because a structure where the SMSF owns no more than 50% of the units the trust is considered to be an unrelated trust (also known as a SUIT – Superannuation Unrelated Investment Trust).
For example four unrelated parties could each invest $100k each into a unit trust, and then obtain another $500k from the bank to enable the purchase of a $900k commercial property. This is a great way for unrelated parties such as owners in a business to buy property using super.
For more information please check the following article: Who is a related party of a SMSF?
Can a SMSF develop property using a unit trust?  That answer to this depends on a number of factors and there are some key issues outside the scope of this article that need to be addressed.  The following from the ATO provides an insight into this: SMSFs and property development
Also read: Using an SMSF unit trust to buy property with super
Buy property with super summary
Buying any property is always a big decision with high upfront costs that should not be rushed.  The same applies when using super to purchase property via an SMSF.
Always ensure you get the correct advice and a structure that is appropriate for your situation if you are looking to buy property using super.
Interested in setting up an SMSF?
The following pages provides more information on how you can establish an SMSF: How to set up an SMSF
If you have any questions please contact Grow SMSF.